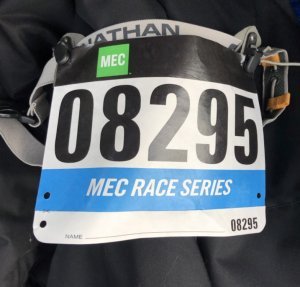 What a great day for a race! Luckily the weather cooperated because its been pretty unpredictable lately.  The temperature was a chilly 3 degrees celsius and overcast.  There was a snow / hail flurry during the first couple of kilometers but all clear after that.  Thankfully, the snow /hail didn't affect the race.
It's always fun to run in a MEC race because they are affordable and well run.  Today was no exception.  The course was two 5K loops around Langley City Park.  There was one good hill you run twice BUT that also meant you got one good hill to run back down.  The hill started around the 3K and 8K mark.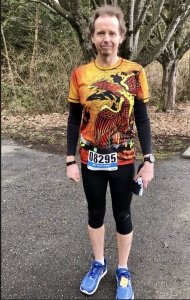 I hadn't run a race in a while so I didn't know what to expect.  I wanted to make sure I didn't go out too fast.  I felt pretty focused so I was able to pay close attention to my pace.  Because of the hills it is hard to judge the exact pace but I did run a negative split and that's usually a good thing.  Running the first lap there was no traffic.  On the second lap there were some 5K runners to watch out for but because the race was run on the sidewalk and in the bike lane there was lots of room for runners of different paces.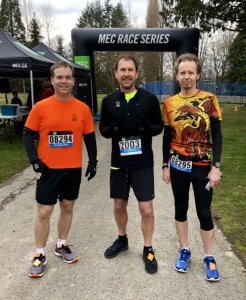 Two other runners I run regularly with were also at the race with me.  We all finished within a few minutes of each other a met up at the end of the race.
I've been doing most of my training on the treadmill with Zwift Run for the last 6 weeks so  I was curious to see how this was going to affect my outdoor running.  I think it actually had a pretty positive affect as I felt strong during the race. #RunOn!
Also, during the past 3 weeks leading up to the race I've been following a raw, plant-based diet.  Following a raw food diet gives me lots of energy and speeds up recovery which, I feel, played a big role in my race today.
Today was my first race in my Altra One V3s.  I have been running exclusively in Altra shoes for the last year and most of the previous year.  The Altra One V3s felt really light and I could barely tell they were on my feet.  The wide toebox of the Altra makes them very comfortable.
I was very happy with the race and felt super energized afterwards.  Looking forward to running in MEC Langley Race Two in April!
Note: I was wearing my new speedy INKnBURN shirt.