What a great day for a race!  I hope you enjoy this race report! This is the third time I've done the Campbell Valley Stomp which is hosted by Pennisula Runners.  It was my first time running the new course. The 10K distance is two loops of the course. (There's also a 5K race.)
The conditions for the course were shaping up to be perfect. Some rain to make the single track muddy but not enough that it would be underwater.The temperature  was around 8C at race time with some light rain. Conditions that would make for a fun race.
The start of this race is pretty important. It narrows down to groomed gravel trail pretty quickly then about 800m into the race you enter the 1K long single track. You want to be in the right spot before you hit the single track.
Shortly after the single track there is a challenging 200m hill with about 10 stairs at the top. After this your back to nice groomed rolling trails until you come around to the start of the second loop.
The start for me this year was great! I didn't feel that I had to pass too many people or that people were breathing down my neck. First past through the single track was good as it wasn't too mucky yet.  Went steadily up the hill then back around to the start over the rolling trail.
I don't know if everyone thinks this but usually with races of two or more loops I always think "man I could just run to the finish and be done". Luckily this doesn't last for long and once you get past the finish area there is nothing to do but settle into the run.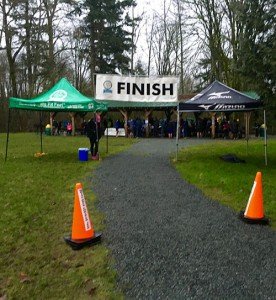 The second time through the single track was much more fun. The Mizuno trail shoes gripped really well in the mud. I felt that I could run straight through all the mud without losing traction. I was able to pass a guy wearing Nike road shoes that was slipping all over the place.
My goal after the single track was just to maintain my spot as there was no one really close in front of me. I knew there were 2 or 3 folks back there. With 1K to go I could tell one of them was starting to pick it up. This made me push harder. As we got closer to the finish I could hear him closing the gap some but I wasn't going to let him pass me.  Every time I heard him I pushed harder and harder. It ended up that he didn't pass me and I finished in 53:58. Looking back at my watch I negative split the loops by 4s.
I had a great time and look forward to doing it again next year!